Typing certificate
You can become a Professional Touch Typist on QWERTY keyboards. This will help you to be recognized as a competent keyboard specialist, providing you with an essential advantage for your career advancement or educational pursuits. With the ever-increasing worldwide demand for professionals with basic information technology skills, mastership of the keyboard - the computer's primary input device - will set you apart from the rest of the highly competitive global workforce.
There are two ways to obtain certification as a Professional Touch-Typist:
Free method:

You need to achieve recommended results for all typing lessons in the selected language (currently only English version is available, but more languages will be available soon)
You need to pass the Final Typing Test within three attempts. The final exam will not be available until you complete all lessons. If you fail all three attempts, you will need to start from the beginning.

Payment method (currently not available, coming soon):
By selecting this method, you are not required to pass all typing lessons. You will be given access to the final typing test and three chances to pass the exam.
Please, prepare for the typing exam seriously. We encourage you to take our typing tutor, to play typing games and to test your typing speed before taking any exam.
Your typing certificate will be available online. This is a sample certificate (click to view it in a new window):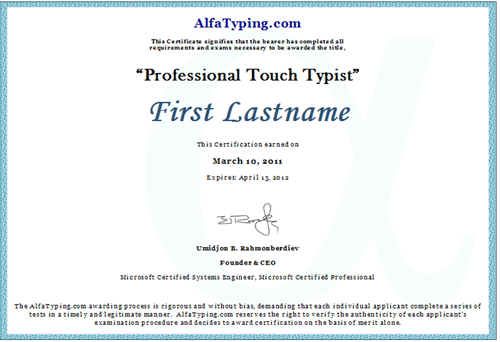 You can print it out for your records, add the link to your resume, share it with your facebook friends or twit. Your certificate will be publicly available and anyone who has the link will be able to access it.
Please note that certificates are valid for one year.