Free typing lessons, games, tests and certificates
Welcome to AlfaTyping.com, a free online typing tutorial for learning and practicing keyboarding on QWERTY keyboards. Improve your typing skills by playing fun and free typing games online.
Many K12 schools in the United States have adopted our lessons in their keyboarding classes as a leading learning interface. Our portal is comprised of 60 typing lessons in English, designed in collaboration with professional teachers and psychologists to make the learning process smooth, enjoyable and efficient.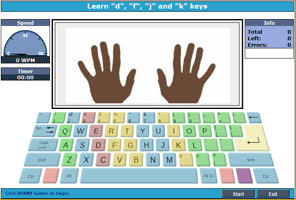 About 50,000 typing lessons delivered daily and the rate has been increasing!
Sign up now and start learning typing right away at no cost. It is absolutely free!
Check out our typing demo lesson to get an idea of what it looks like and how it works.
Our free speed tests are designed to test your real typing speed in 4 different levels:
Touch Typing Speed Test
Numbers & Symbols Typing Speed Test
Expert Touch Typing Speed Test
Professional Touch Typing Speed Test
Also, you can play free typing games to improve your typing speed and accuracy.
Watch video - "free typing tutor online".